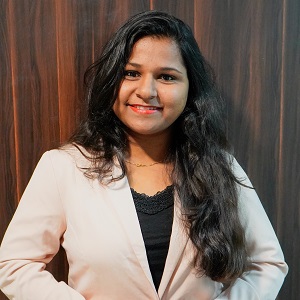 Hey Guys,
I am Richa Pathak – An emerging marketing influencer, and a creative digital marketing consultant who helps clients generate leads, drive site traffic and build their brands through data-driven strategies. With a decade of experience in working with B2C & B2B brands across the globe, I shared my knowledge and learnings with various top magazines.

Digital marketing is my passion & love.
I'm innovator & want to explore more, learn more, try different tools, hacks with various campaigns.
MY PRINCIPLE is very simple – Plan, Execute, Learn, Implement, Repeat! 
In the past decade, I worked with 10+ Industries, 30+ Startups Consulting, 45+ Projects Accomplished Successfully, Trained 500+ people, Wrote 50+ articles in top marketing magazines, and counting…
I do provide digital marketing services, consulting, and personal/corporate training.
You can reach out to me to have a quick call to understand, how can I add value to your business and increase your ROI.
✔️ I do Specialize in:
Digital Marketing
Online Branding
Advertising PPC – Facebook, Twitter, LinkedIn, Google Ads, YouTube
Email Marketing – Campaign planning, marketing automation, conversion rate optimization, A/B testing and more
Social media marketing
Content Marketing – Blogging, Content Promotion
Video Marketing
Product Marketing
Mobile app marketing – App store optimization
Personal branding – Social media, guest blogging, followers building, website optimization
🏆 Achievements
FICCIFRAMES2016 hashtag campaign – 80K tweets
Generated high-quality leads from Facebook Remarketing Ads for B2B firms
Most viewed writer on Quora for digital marketing, SEO and Advertising
Featured in top-10 marketing magazines globally such as Social Media Today, Search Engine Watch, Entrepreneur, Inc42, YourStory, and more.
My interviews on branding for featured in few top entrepreneur magazines.
A certified digital marketer by Hubspot Inbound Certified Marketer, Google AdWords Certified Professional, Certified Google Analytics Professional, Digital Analytics for Marketing Professionals from Coursera
Find out how I can be of value & contribute to the progress of your company at richa [at] semupdates [dot] com
You can connect with me on the Telegram app. Username: RichaP1
Or Skype me for quick help. ID: expert.seoricha
Get customized digital marketing tips directly in your inbox. Just leave your email and there you go…
What People Says About Richa Pathak
Milita Datta
Richa is a social media expert, enthusiastic and always ready to experiment new things in digital world. She knows how to engage users in social media and amplify content. You just set the target for her. You will observe the miracle that she can bring into your digital marketing effort.
Microsoft
Partner Business Evangelist

Deepak Singh
I've worked with Richa on couple of projects. I bet she is the best when it comes to SMM or Google AdWords. She has a unique style of working and is very result oriented. She is kind of a person you can count on.
GDS
Consultants CRM Manager

Zeyad Bharucha
Richa has developed a proactive nature with research and has the capability of tweaking her marketing campaigns accordingly. She has impressed especially with her social media marketing skills and the ability to create engaging content for social media.
Velocita Brand Consultants
Digital Marketing Lead

Sagar Medhekar
I was working with Richa on some SEO and Digital marketing assignments and found her really passionate about her job and responsibilities. All the campaigns she was handling were successful one.
Cubical Hub Games
LLC Founder Director

Vikas Makasare
Richa is honest and always dedicated to the task she does. She promoted my music in a very creative and unique way, and targeted the audiences by her smart and intelligent strategies. She is well aware of current marketing scenario, and her strategies is having a good long term positive impact.
Musician & Pianist
Vivian Michaels
Richa is a wonderful person to do business with and does have excellent knowledge of her field. I had an encounter with her recently, and she surely made the business deal go as smooth as possible.
VentureBeat
DM Expert & Contributor

Rajendra Chandel
Richa is the very definition of an entrepreneur, I know very few people with her drive zest for success. As a digital marketing pro, her strategic insight and leadership isinstrumental in her success.From data gathering, to strategic application of them and applying them to best use, Richa sets the bar for what I call "Ramping up right"
IBM
Creative Design Manager

Sudhanshu Kothari
Richa is a proactive and tireless contributor who would make a great addition to any team. She impressed all of us by transforming the ensuing awkward silence into a lively icebreaker discussion about potential marketing projects for the organization.
Servesy
CMO - Digital
Richa's Articles Featured in Top Digital Marketing Magazines:
Save