Today I received an email, which was extremely amazing. And, that's how it comes to my mind that I should share my learning with you. After reading it, you will have a great take away with you. It will help you plan the perfect email marketing campaign.
A lot of business do email campaigns just for the sake of awareness. Is it worth doing email campaigns? Is it delivering the purpose of the campaign? Here are some facts you should consider:
"70% of the emails go to the SPAM category. Why? Because those mailing lists are purchased by a3rd They may not be the right audience for your business."
"Email is a traditional approach. But it's not, email marketing is still an effective and efficient tool if it is optimized for the buyer's persona."
"According to the Direct Marketing Association, 76% of marketers say they use email more than they did three years ago."
Have you ever thought why your email campaigns don't give you the expected ROI? Well, here I am sure you will get the answer to all your questions.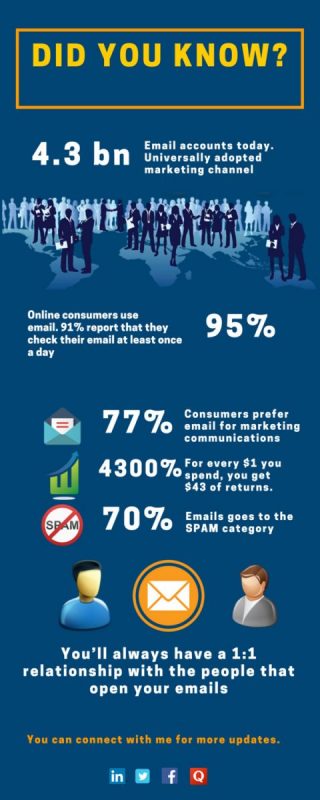 Let me show you a perfect example with an explanation on how a perfect mail template looks like:
Subject line: "Richa, what's wrong?"
Body text:
Hi Richa,
The webinar was awesome but we were missing one thing…
You!
Here's what just one person said about the webinar:
"I thought this was going to be another one of the million webinars I've seen that gives me the same info I already know but just in a different format. I was super impressed with the outline and how the content here was dispersed. I got many good ideas for my business, which has been stagnant for a little while now…" –By XYZ company
I once heard someone say that if you were to get just one single new idea or tactic out of a book, it would instantly be worth the $X–Y you'd spend on it (at least!).
In other words, you'd have a positive ROI (return on investment).
Imagine if you got just one tactic out of this webinar. And the best part? It's free.
Here's the link—sign up again now:
[URL]
Cheers,
XYZ
P.S. I'm not sure when I'll put this webinar on again, but this will probably be the last time for a while.
Make sure to subscribe [URL] now.
Why is this mail the perfect example?
Personalization: Your mail should be personalized according to whom you are mailing to. When people read their name in the mail, they pay attention to what you are saying.
Short and simple: The highly technical terms or fancy words distract people reading your mail. So, keep it short and simple. As you can see the above example.
White space: Make sure your mail has proper white spacing. White space increases the readability of the mail.
Cover only important things: DO NOT write too much. Add only important thing which is useful for the reader to take appropriate action.
YOU oriented: Mail should be customer oriented instead of the product or business oriented. Explain what the reader is going to get, not what your business can offer them.
Call-to-action: The mail has a clear call-to-action. No diversions and any clutter.
Focused: This mail has a clear objective, too many links and offers confuse the readers.
Email marketing is really paid for your efforts in lead nurturing. Nurturing is all about sending the right email to the right audience at the right time. That's the most important thing in the email campaign. Identifying the right audience and target them at the right time according to their time zone with relevant content and clear context. By following it you will see the significant traction in your traffic through email campaigns. In the next post, I will explain to you how to set up the campaign.